An extremely versatile vertical capstan or general-purpose electric winch for use as an anchor winch, pot hauler or davit winch.
FEATURES
The ANCHORMAX™ has an extremely high power to weight ratio.
The compact, fully sealed gearbox is driven by a vertically mounted,
permanent magnet motor. Intrusion below decks is minimised making the
design ideal for boats from 5m (16ft) to 10m (32ft). Fitting to the boat is simplicity itself as no dismantling of the winch is required.
The ANCHORMAX™ gear housings are marine-grade alloy and the
drum is stainless steel. It is supplied as a single direction (clockwise) unit, complete with deck switch, fastenings, template and fitting instructions.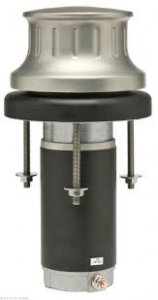 SPECIFICATIONS
Model   Anchormax
Maximum Pull    386kg